Local SEO for Small Businesses: Everything You Need to Know
What if you could stop calling it a "small business" forever?
Every small business owner dreams of becoming a larger and more successful business. But that kind of success cannot simply be given. Instead, it must be earned via successful SEO for small businesses.
Whether global or local SEO for small businesses, your exact SEO strategy defines how successful your company can be. Do you want to take your business to the next level and achieve your full potential? Reading on to learn everything you need to know about SEO in 2021!
If you're reading our guide, the chances are that you feel your current SEO approach is lacking and your website could be working harder for you. The chances are you are right. Small and local businesses are not taking advantage of their websites and the effect good search engine optimisation can have on a business.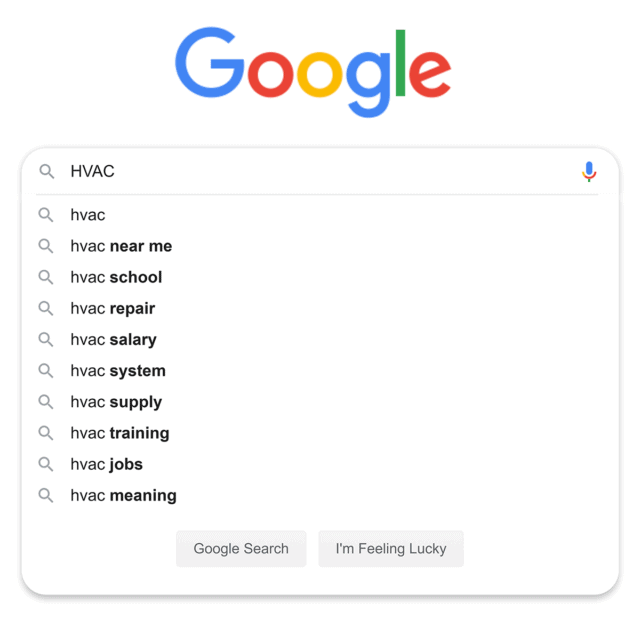 Keyword Research for Small and Local Business
For better or for worse, creating good SEO for small businesses isn't about taking one or two giant steps. Instead, it's about taking many small steps to help you achieve your goals. And the first of these steps is doing some additional keyword research.
By using tools such as Google Keyword Finder, Moz Keyword Explorer, or SEOi's SEO tool, you search for keywords and see the amount of the monthly searches and the competition level for the keywords. You can then build a list of different keywords and phrases that people are using to search online for your type of business and the products and services you offer.
At this point, you might think that all you need to do is choose the most popular keywords. But this isn't always the case because larger businesses may be competing for those keywords. For your small business to stand out, you need to discover niche keywords related to your products and services.
Local and long tail Keywords
You can target local keywords if you offer your services in a designated area. Are what we call long tail keywords. So if you are a local carpet cleaning company rather than optimising a web page for (carpet cleaning) you could optimise your web page for carpet cleaning in (your area) or dry carpet cleaning or steam carpet cleaning. Long tail keywords generally offer higher conversion rates as they are more descriptive and when someone is searching for that online it is a better match of what you offer so they are more likely to convert by contacting you purchasing from your business.
Good keyword research and good web design and development is essential to targeting your correct audience and engaging and reducing your bounce rate. Your bounce rate is the amount of visitors that bounce off your content and site without moving to other pages or interacting with your site. Google uses this as a sign that you're a good match for that search query or not and can dramatically impact your rankings.
It may be challenging to thread the needle of finding keywords that are relevant to your business and not overly competitive. But once you have these keywords in place, you can boost your SEO and improve customer conversions at the same time.
To read more about keyword research read out blog post here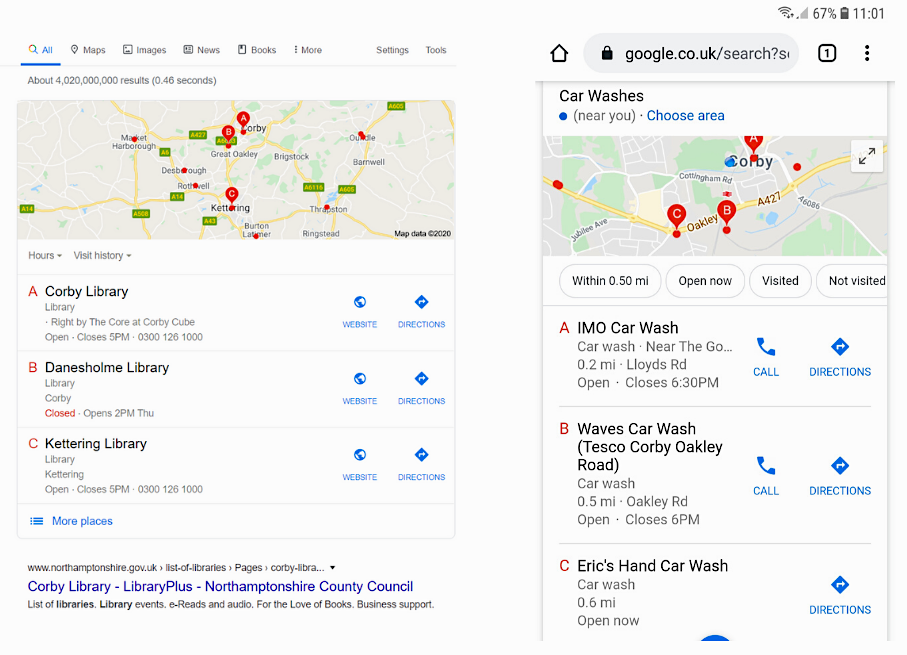 Local SEO for Small Businesses: Google My Business
Most businesses (even small companies) treat SEO as an opportunity to market themselves on a global scale. While they may work well for certain companies, smaller and local companies tend to do better on the local level. And that's what makes local SEO for small businesses so important.
One of the best and most intuitive tools for local SEO is Google My Business. You can use this free service to fill out a business listing that includes information such as your address, contact information, and representative photos. Your website address and google will even build you a website from the information you add to your business listing. You can then start to collect google reviews and get listed for competitive keywords on local searches.
It doesn't take long at all to set up your listing. And you are likely to see results almost immediately. This is because your customers rely on Google to help them find and contact nearby businesses.
For example, a popular Google search is "restaurants near me." If you run a restaurant and fill out the Google My Business info, then your business will pop up in these "near me" searches. And armed with your address, apps such as Google Maps will help bring customers right to your front door.
This creates a direct and positive impact on your local SEO. And it has an indirect and positive effect because it transmits accurate information about your business to any third parties that may rely on Google for this info.
You can read our guides on how to build an optimised Google my business page here.
And how to collect reviews and mange your reviews and GMB page here.
Local Business Citation Building and management.
When it comes to local SEO and improving your reach through your google my business page and local search. It is important to make sure the information that is online about your business is up to date and consistent. There are 1000's of online business listing sites that have your businesses NAPs (Name, Address Phone number) on. If you have information on these sites and it is incorrect it can be damaging. If Google finds these listings and they are not consistent. It adds doubt and your business looks out of date.
It is important to make sure your business's online information is correct and consistent matching your google my business page.
Local business citations are a key ranking factor in local search. So fixing this and adding your business to the trusted citation sites is essential to take full advantage of local SEO.
SEOi offer a local citation building service. If you would like to leave this to us we can add and update your citations on 100's of trusted citation sites for a one off payment. Or you can do this yourself by searching for your business name on line and find your listing and login in or claiming your listing and updating or adding your business to these sites.
Take advantage of Google Free analytics tools.
Want to improve your local SEO even more? Google analytics, console and Insights can provide a wealth of additional info about how, exactly, different customers discovered your business. This information will let you know which marketing efforts are yielding results and which ones need to be improved or replaced.
You will need to add a snippet of code to your website so that google can track your site and the way visitors are finding your content and the way they are interacting and navigating your site.
If you are not confident or unable to add the code to your site you will need to employ a web developer to do this. SEOi offers web development services and affordable packages. So if you would like us to do this for you please contact us.
The Need for Speed
Earlier, we talked about the need to reduce your bounce rate. And arguably the single best thing you can do to reduce that bounce rate is to increase the loading speed of your website.
Customers are generally impatient. If it takes more than three seconds for your site to load, most of them will back out and search elsewhere. On top of that, Google's algorithm places a high priority on loading speed when it comes to search rankings.
Sometimes, reducing the load speed is as simple as replacing or removing large image files or other embedded media. You can also compress and/or minify your code and even use a Content Distribution Network to improve the overall loading speed. For further inspiration, you should check Google's PageSpeed Insights tool.
Mobile-Centric Design
Want to hear a paradox? Countless small businesses design their websites with desktop users in mind. And yet the majority of consumers now access the internet through mobile devices instead of desktop computers, and that number will only grow over time.
What does this mean for your business? In short, you need to optimize your business website for mobile devices. This approach is customer-friendly and also helps improve your SEO.
When it comes to optimizing your page, you don't necessarily have to choose between making it look good for desktop or suitable for mobile. It's entirely possible to optimize for both by using responsive design. Responsive design will optimize your website for different screen sizes, which means everything will look great on desktop and mobile alike.
Why does mobile optimization help improve your SEO? As usual, it all comes down to Google. The Google algorithm helps determine your ranking when it comes to customer searches, and Google has now made mobile-friendly pages a priority for the algorithm.
How can you optimize your site for mobile while making your business more attractive to the algorithm? Responsive design helps you do so because it ensures you have the same content (that's both indexable and crawlable) for both the desktop and mobile versions of your site.
Other than that, make sure to use structured data and make sure your different meta tags are consistent between mobile and desktop versions of the site. According to Google, these steps will help your mobile-centric design and SEO to flourish alongside one another.
Content Marketing for Local and Small Businesses.
How can small businesses take advantage of content marketing? It is not as hard as it might seem to get started in content marketing. The best and cheapest way to get started is to add a blog to your site. Writing informative blog posts that your target audience will love and answering the questions they may have when researching before a purchase. Is a great way to put you in front of your target audience building trust and brand awareness.
By creating and writing great content for your target customers you are adding keywords and phrases that you rank for online, expanding your reach and at the same time building authority with your target audience and the search engines.
You can read more about content marketing in our content marketing guide here.
Rich Content
Take a look around you. What kind of internet content do consumers seem focused on? If we're honest, the main answer is video content, and such content can help drive your SEO in several ways.
On the most basic level, video content can help drive traffic to your site. The best content marketing offers information that is relevant to consumer needs, and video is no different. If you create things like video tutorials for your products, this serves to attract more customers to your site naturally.
And you can always re-use video in creative ways. Whole videos or video snippets make for the great content you can share via social media. That social content can help drive additional traffic to your site, and there is always a chance your videos will go viral.
Video has become so important that Google has started to display video snippets as part of their search results. To maximize the chance of Google featuring your videos, make sure the video has text on the page describing what the content is all about. This text (which ideally includes target keywords) helps Google's web crawlers understand your video content while giving customers some much-needed context.
Strategically Using Internal Links
One bit of good news is that not all of your SEO strategies need to be complicated or innovative. One of the best things you can make is to make better use of internal links across your different pages.
An essential function of internal links is to reduce your bounce rate. The easier it is for customers to access different parts of your site, the longer they are likely to stick around.
Google factors the bounce rate and the average time customers spend on your pages into your search rankings. That makes adding logical and relevant internal links one of the best moves you can make in terms of customer navigation and overall SEO.
Don't Forget the Backlinks
Internal links are an essential part of on-page SEO, and they are relatively easy to add on your own. Backlinks are even more critical, but it takes more time and effort to get more of these.
A backlink refers to links to your webpage found on other sites. Google factors the number of backlinks into your search page rankings, but the most important backlinks come from higher-quality sites.
Google places the highest priority on sites with high Domain Authority. These are trusted sites, and if they link back to your site, it helps establish your trustworthiness.
Site owners may naturally take a liking to your site and link back to it. But you should also be proactive and reach out to some of the better-known bloggers and influencers in your particular field. The higher quality backlinks you get, the better your SEO and ranking in the search results.
Keep in mind that backlinks from low-quality sources can hurt your SEO. Be sure to monitor new backlinks as they come in (Google Search Console makes this easy) and disavow any links that seem to come from bad sources.
SEO for Small Businesses: The Importance of Auditing
"Audit" may sound like a dirty word to any manager or business owner that hates dealing with paperwork. But when it comes to SEO, conducting occasional SEO audits is the only way to gauge the effectiveness of your design accurately.
Unfortunately, most small businesses are a little too close to the matter to audit their own SEO accurately. That leaves you two choices: to rely on third-party tools or to work directly with an SEO specialist.
Third-party tools like SEMrush can be a great way to get a "surface-level" view of your SEO effectiveness. But an audit is only as effective as the person conducting it. If your small business doesn't have a real SEO expert on hand, then you may not be able to accurately interpret data from using this tool, much less make essential changes.
That's why your best bet is to work directly with a third-party SEO professional. Such professionals already have the tools you need, which is one less thing you have to worry about buying and learning. And they are experts at interpreting the data and helping you plan your next move, which is invaluable when it comes to improving your SEO. Good SEO offers one of the best returns on investment in marketing and makes SEO a cheap marketing option.
The Future of Voice Search
The best SEO strategies are not merely reacting to the current state of digital marketing. Instead, the best techniques help you anticipate and respond to cultural and technological changes on the horizon.
And one of those changes is voice-assisted software. It is now commonplace for consumers to have Google Home or Alexa devices in their bedrooms, kitchens, and living rooms. Throw in technology like Apple's Siri, and you have millions of customers who rely on talking tech every day.
This is important because consumers are increasingly using voice commands to search the internet. If you want to bring more of these customers to your site, you need to master the art of voice-friendly SEO.
There are two basic methods to achieve voice-friendly SEO. The first is to create more "conversational" keywords. Customers tend to talk to their devices as if they are asking a person a question, so you should keep that in mind.
The second method is an extension of the first: you need to embrace longer keywords. Whereas customers only search with a few words to save time, they are likely to ask their devices questions using full sentences. Your voice-friendly SEO should consider the length of those questions.
Your Next Move
Now you know all about SEO for small businesses. But do you know who can take your SEO to the next level?
We specialize in SEO management, content creation, and local SEO for small businesses. To see what we can do for your own company, Please contact us for a free site audit and free SEO strategy today!